African Railway Loaded with "Zhejiang Brain"
African Railway Loaded with "Zhejiang Brain"
November 1, 2016 08:53:15 Source: Zhejiang Online - Zhejiang Daily Tang Junyao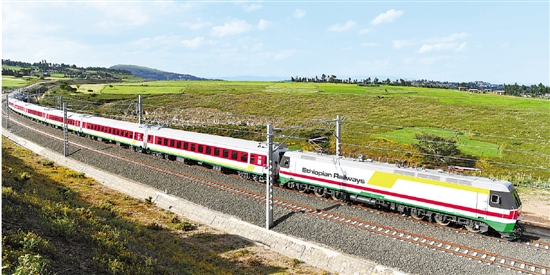 In the vicinity of the capital of Ethiopia, Addis Ababa, a train is running on Addis Ababa - Djibouti Railway. - Xinhua News Agency
Zhejiang Online dispatch on November 1 (Zhejiang Daily reporter, Tang Junyao) In October, Addis Ababa - Djibouti Railway, Africa's first cross-border electrified railway - connecting the capitals of Ethiopia and Djibouti opened. The whole line was built by Chinese enterprises according to Chinese standards. Zhejiang United Science & Technology Co., Ltd.installed an "Intelligent Brain" core control system - BiLOCK type computer interlock system for this modern railway.
"Brain" of Addis Ababa - Djibouti Railway
Run Every Half a Second
BiLOCK type computer interlock system, what is the magic role of this strange name? Why can it be called the "brain" of Addis Ababa - Djibouti Railway?
In the headquarters of United S&T in Binjiang, Hangzhou, the reporter met the Vice President & Chief Engineer of the company, Mr. Ling Zhujun. He made it clear at the beginning, "The main function of this system is to ensure train operation safety."
We have all seen the scene when a train draws into a station: the track ahead will be more bifurcated, and the train needs to "transfer track" to draw in the correct platform. This "track transfer action" was mainly done manually before, so there is "switchman" once said. And now, the "track transfer action" is completely done by the track automatically, and the core just lies in the powerful computing power of the background computer system.
In order to ensure train safety, this computing cannot have even the slightest error. The annunciators distributed at the tracks and platforms of Addis Ababa - Djibouti Railway collect data ceaselessly in 24 hours; the system operates once every half a second, and each operation further includes five steps.
When the results of the operation all meet the conditions, the system will issue a command to automatically control the track transfer and guide the train to the correct heading direction until the train draws into the station safely.
"As long as there is a data anomaly, the system will judge it as 'dangerous', and command the train to stop immediately." Ling Zhujun said, this is the core safety technology of the system called "Fault-Guided-to-Safety".
It was by virtue of this core technology had the BiLOCK type computer interlock system of United S&T passed the "Universal Product" and "Universal Application" SIL4-level international safety double certification. "Such an excellent safety platform is very rare in our previous safety assessment", commented COO of TÜV, an international famous safety certification company.
"In 2014, when we participated in the bidding for Addis Ababa - Djibouti Railway, our system was the only computer interlock product in the country that had passed double certification, which was also the international highest standard", said Ling Zhujun proudly.
Low-key United S&T
Originate From Insigma
In the United S&T building, the reporter found the answer. It belongs to Insigma Group, part of the famous "Zhejiang University School".
United S&T grew out of the monocrystalline silicon manufacturing enterprise - Zhejiang University Semiconductor Factory in the early 1970s; in 2015, it was renamed as Zhejiang United Science & Technology Co., Ltd. Relying on the disciplinary advantages of Zhejiang University, energy conservation & environmental protection and rail transit become the two major businesses of United S&T.
"About five years ago, we began to get involved in the research of computer interlock products, and at the same time we acquired a set of system platform most advanced at that time from Germany. Then we had a lot of integrated innovation for more than four years", introduced Ling Zhujun. In 2014, the total R&D funds of United S&T reached 109 million Yuan; in 2015, the funds exceed 120 million Yuan and the R&D personnel accounted for 33%.
"At present, not only United S&T has the complete independent intellectual property rights of the system, but also it has been higher in the technical level compared with the technology and domestic industry standards when it was introduced from abroad". Said Ling Zhujun.
It can be proved from one side that the original German company applying this set of system found that the "upgraded version" of United S&T had surpassed their own original system after conducting test and consulting TÜV experts who carried out safety certification for BiLOCK computer interlock system. Therefore, this company has in particular invited United S&T to expand the market abroad together with it.
"We prove ourselves with our own efforts and innovation, and make China's high-end technology go aboard and benefit American people", said Ling Zhijun excitedly, "high-end technology and equipment of Zhejiang will become the industrial model and pioneer in the "One Belt One Road" and Chinese standard output.
Explore Unmanned Driving
Take the Lead to Settle in Shenzhen
Perhaps many people do not have such a chance to take a ride on Addis Ababa - Djibouti Railway and feel proud of Zhejiang, but in fact, you have already intersected with United S&T in daily life.
The current operating Hangzhou Metro Line 1, 2 and 4 do apply the CBTC signal system of United S&T. The automatic ticketing / checking systems, etc. of these three metros are also manufactured by United S&T.
In addition to Hangzhou, the metros and trams in Ningbo, Chengdu, Dalian, Shenyang, Nanjing and other domestic cities also apply this set of system independently researched and developed by United S&T to different extent.
In United S&T headquarters, Ling Zhujun also showed the reporter around two special laboratories. One is the "National Train Intelligent Engineering Technology Research Center" jointly applied with Zhejiang University and approved in May 2011, which focuses on researching intelligent system and generic technology, etc. for rail train safety, operation and maintenance and performance optimization; the other one is the "Urban Rail Transit Train Communication and Electromechanical Control National Local Joint Laboratory" approved by the National Development and Reform Commission. These two state-level innovation platforms show that they have been at the forefront of the country in the field of technology research and development for a long time.
Technological innovation is the sustained impetus for Zhejiang high-tech enterprises to develop and move forward constantly. The next goal of United S&T is the current hottest "unmanned driving" concept. Just half a month ago, the unmanned BYD airbus "Cloud Rail" demonstration line was opened to traffic in Shenzhen, and its unmanned signal system was exactly provided by United S&T. "This was the first time that our independently researched and developed unmanned signal system was applied in an engineering case", Ling Zhujun said, "I 'm looking forward to having the opportunity to make this unmanned technology applied in Zhejiang the next time.